RecallChek...
InsideOut Inspections Plus offers FREE RecallChek for any home appliance to protect our customers down the road with a purchase of a Residential Home Inspection! RecallChek is the first consumer appliance recall reporting system to not only protect your purchase, but help you stay on top of them. Since 1974, home owners have been protected from manufacturer defects that could potentially be harmful to you and your family. However, the federal government mandated that appliance manufacturers must offer a recall on those defected appliances and repair them for FREE! Although it is a free service, it is up to the appliance purchaser to find out which appliance needs to be repaired for the recall. Luckily, InsideOut Inspections Plus offers this service absolutely FREE for any Residential Home Inspection.
How it Works
The process is fairly simple, all you have to do is take down the model numbers from the major appliances inside the household which can include the following:
Air Conditioner
Furnace
Dishwasher
Microwave
Stove
Oven
Garbage Disposal
Water Heater
Refrigerator
Washing Machines
Drying Machines
Smoke Detectors
Much Much More!
Serial Numbers are optional when filling out the RecallChek online, but InsideOut Inspections recommends that you input the serial numbers for your own simple record keeping. Typically within 2 business days of you submitting the appliances, you will receive a detailed report summarizing each appliance.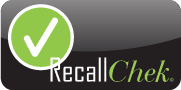 You May Purchase This Service Separately From A Home Inspection By Clicking On The Button Above!